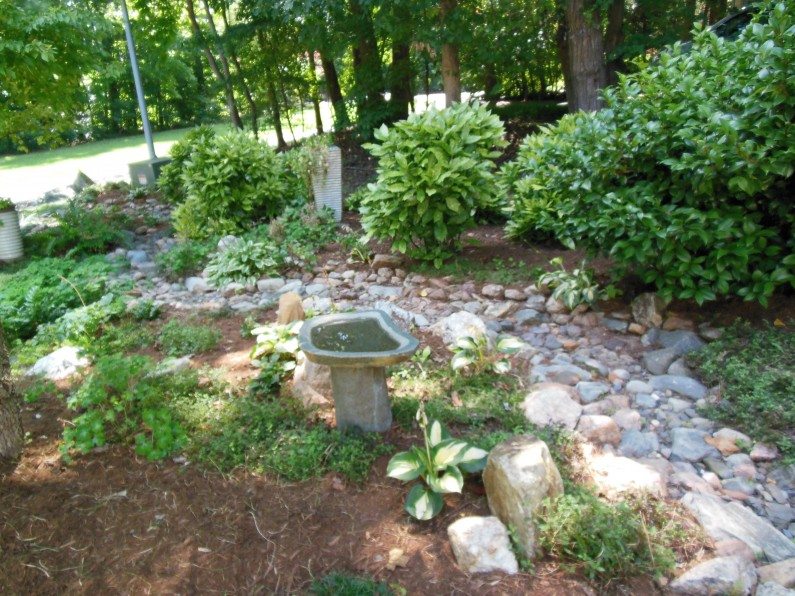 "The DesignScapes team recommended various options for us to select for our yard. Not only did Susan give me options, she provided links to online sites which I could peruse and become more educated in my selection process. Her team is experienced, prompt, efficient and friendly. I looked forward to seeing them each day as I always learned something new about my lawn, my shrubs and my trees.
DesignScapes provided us with a quote, promptly scheduled the work and executed everything we agreed upon and more. They added some extra grass seed where my lawn needed it and installed a soaker hose for my new shrubs…all neatly and efficiently. I recommend the DesignScapes team to everyone."
~ Elizabeth
"Talented, dedicated, honest, prompt….. just a few words to describe Susan and her hard-working team. We have been associated with them for a few years and have never been disappointed with the results – from shrubbery to annuals. Over the past few years we have been thrilled with the way our yard has matured. She always knows where to plant our annuals for a complete look as well! We definitely recommend Susan and her team!"
~ Pattie and Ronnie, Traemoor Village, North Raleigh
"Amazing experience! Susan and her crew were so nice to work with."
~Marci J., Brookhaven, Raleigh
"This was the best decision we ever made to hire DesignScapes. From the planning to the installation of our new landscape, Susan and her team were just absolutely wonderful to work with. I am so happy I let them do more than just the front of our house. I think it says it all to share that tears actually came to my eyes when I stepped out back after our plant bed was totally transformed with stone surround and new plants. I can't get enough of the new spectacular view from the back porch. And the view out front as well!"
~Anonymous, Wake Forest
"I first worked with Susan 20+ years ago when we moved to Raleigh and had our house built. Susan designed and installed our initial foundation plants and natural areas. She did a great job. Recently, when considering alternatives for our grassy areas, we discovered Susan was still in the area and doing landscaping work. We contacted her and have had her install a new lawn and do additional work on our natural areas. Susan's very easy to work with and has great people working for her. We've had bad experiences with others over the years and were thrilled to be working with her again, after so many years. I would definitely recommend contacting Susan. You'll be very happy with the results."
~Ed M., North Ridge, North Raleigh
"Susan and her team were amazing to work with! They came in to help with yard clean up for me and accomplished in one morning what would have taken me months to do on my own. It was so wonderful! I look forward to working with her again!"
~Elizabeth G., Cameron Village, Raleigh
"We have used Design Scapes of Raleigh for more than 8 years. That in itself says how great they are! The success of this company is absolutely because of the owner Susan Downing. She is honest ,very friendly and sweet and really knows her stuff. We will never use any other landscaping company."
~Elizabeth H., Lochmere, Cary
"DesignScapes has landscaped two yards for us. Each time they have been professional and met all of our expectations. The price for each job was within the budget and deadline given. The plants and colors were exactly what we pictured for our yard. We look forward to continuing our relationship with DesignScapes. One job was at Wakefield and the other in Wildwood Green in 2000 and 2013. We will continue building our landscape in Wildwood Green this Spring/Summer as this was an older home with alot of improvements needed. With the knowledge and experience of this company we will build our dream yard."
~Anonymous, Wakefield and Wildwood Green, Raleigh
"Design Scapes has provided design, planting, mulching, trimming services for me-their quality is excellent and they do their work in a timely efficient manner. I would highly recommend them."
~Anonymous, Glenwood South, Raleigh
"Susan and her team helped my wife and I with a vision we had for our backyard. We had a large portion of our backyard re-sodded with a summer grass, 10 trees planted, a patio area and pathway laid with flagstone, and finally a stone wall built. Our backyard was transformed both visually and functionally. Susan's team were hard workers and accepted direction from my wife and I each step of way as we shrived to come as close as possible to our original vision. Susan herself is a lovely person and a pleasure to work with and be around. I would recommend Susan to others."
~Anonymous
"Susan has done several projects on our property over the past 10 years. She is very thorough in her process making sure to go over the pro's and con's of each possible plant we could put into the landscape plans. Susan also is very cognizant of adjoining properties and how our decisions may impact the design and/or property as the plants grow to maturity. Her final designs have included hardscape, irrigation, low growing shrubs, privacy shrubs and wonderful trees. We live on a golf course and every year get compliments on how beautiful our complete garden and landscaping looks."
~Cindy K., Sunset Ridge, Holly Springs
"Susan and the team at DesignScapes are absolutely wonderful! Susan personally came to our house before work began on every project, and looked for ways to give us the most for our budget. Her team was professional, clean and the work was spectacular. The landscaping made sense for our yard and family. We recommended DesignScapes to our parents and they also had a wonderful experience. They had retaining walls, yard clean up and new plantings installed and the work was completely wonderful. Susan is lovely to talk to, responds quickly to your needs, and has helped us manage the landscaping on our property while we have it on the market and our living out of state. Love love love DesignScapes!"
~Jasmine M., Van Thomas Drive, Raleigh
"Susan Downing, the owner of DesignScapes, is very creative yet singularly focused on how the landscape design would complement the architectural design of our home and its setting. She was very easy to work with and understood our goals and respected our budget. Her employees are super and respected the rest of our property. We continue to use her for other projects."
~D. Schofield, Trego Trail, Raleigh
"Thanks for your good work in our yard. Always good to work with you."
~ Helen and Pete H., Glencastle, Raleigh
"Thank you, Susan, as always, for making our yard so beautiful!"
~Christie M., Raleigh
Have a Testimony to share about our services?