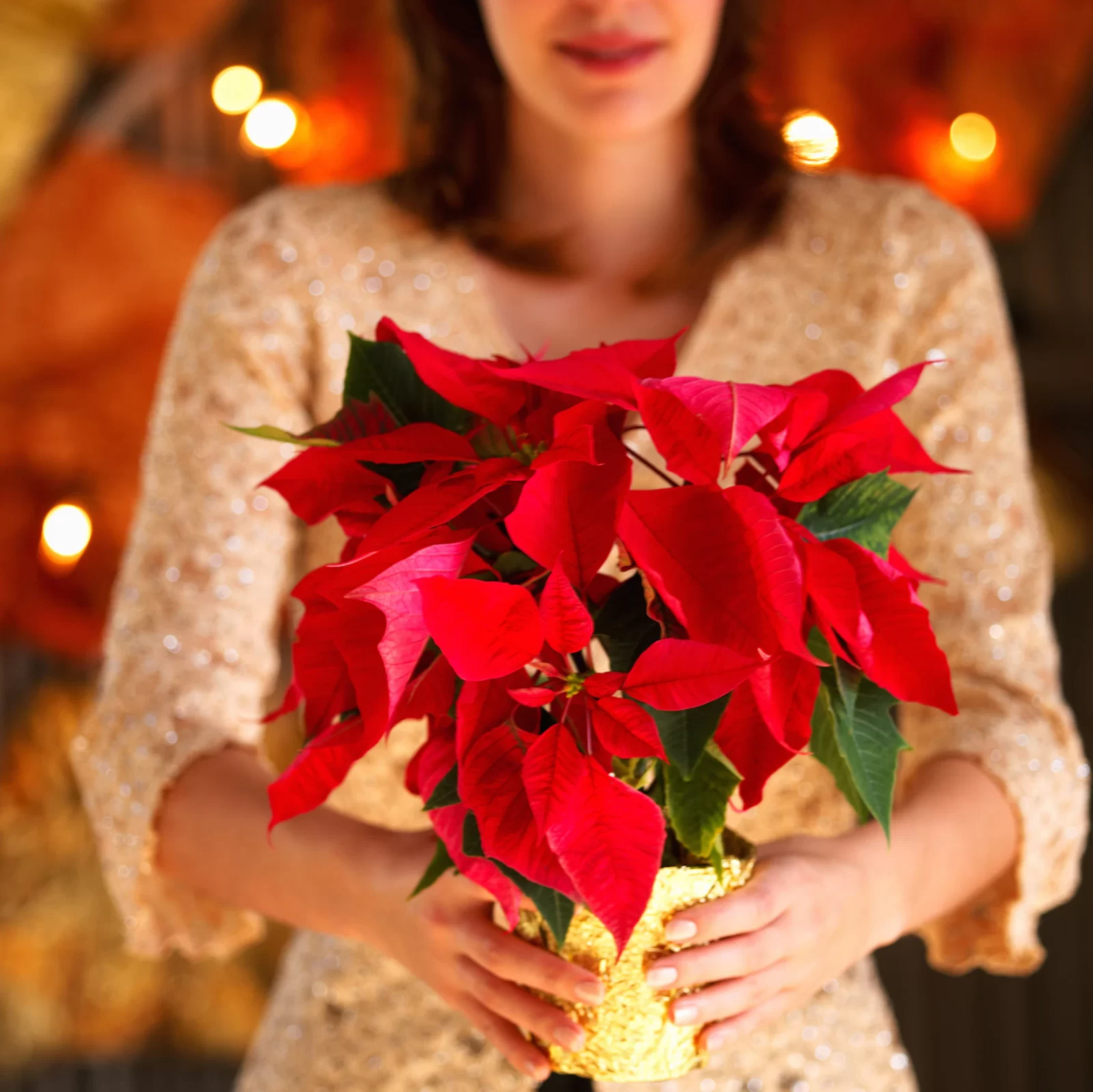 When we see poinsettias we know Christmas is coming soon! It has become a symbol of the holidays and there are so many varieties they can be added to any room for a touch of cheer.
Poinsettias are the most frequently gifted holiday gifts for good reason, so we thought we would share a few hints to keep them beautiful through the holidays and beyond.
Proper Lighting
The poinsettia is native to Central America and is used to plenty of light. Keep your poinsettia in a locations where it will soak up some sunlight. Keep the plants away from drafts and heating vents that will dry them out.
Regular Watering
Like all plants, the right amount of water is key.
You should check you poinsettia daily by poking your finger an inch or more into the soil. When the soil is dry, water abundantly until the water flows out of the drainage holes. Remove the foil wrapping before watering~ poinsettias do not like to sit in water.
Pet Safety
There was a time that we were told that poinsettias were toxic to pets and could be fatal if ingested. The American Kennel Club now says that they are 'mildly toxic' with few deaths after ingestion. Keep this in mind when choosing the placement for your plant~ keep them out of pet's and children's reach.
---
There is an old Mexican legend about how Poinsettias and Christmas come together, it goes like this:
There was once a poor Mexican girl called Pepita who had no present to give the baby Jesus at the Christmas Eve Services. As Pepita walked to the chapel, sadly, her cousin Pedro tried to cheer her up.
'Pepita', he said "I'm sure that even the smallest gift, given by someone who loves him will make Jesus Happy."
Pepita didn't know what she could give, so she picked a small handful of weeds from the roadside and made them into a small bouquet. She felt embarrassed because she could only give this small present to Jesus. As she walked through the chapel to the altar, she remembered what Pedro had said. She began to feel better, knelt down and put the bouquet at the bottom of the nativity scene. Suddenly, the bouquet of weeds burst into bright red flowers, and everyone who saw them were sure they had seen a miracle. From that day on, the bright red flowers were known as the 'Flores de Noche Buena', or 'Flowers of the Holy Night'.
The shape of the poinsettia flower and leaves are sometimes thought as a symbol of the Star of Bethlehem which led the Wise Men to Jesus. The red colored leaves symbolize the blood of Christ. The white leaves represent his purity.
Happy Holidays, may your days be cheery and bright and please keep us in mind for your Landscaping Projects in 2023
The DesignScapes Team