As Spring is coming to a close, Summer is nearing and with it comes the blooming of one of the south's favorite flowers—Hydrangeas. Big, beautiful clusters of flowers form together to offer a sight that everyone will admire throughout the year! While there are many shapes and varieties to choose from, not all are fit for every region. We have put together a few examples of Hydrangeas that do well in our area and will offer you beautiful blooms for years to come!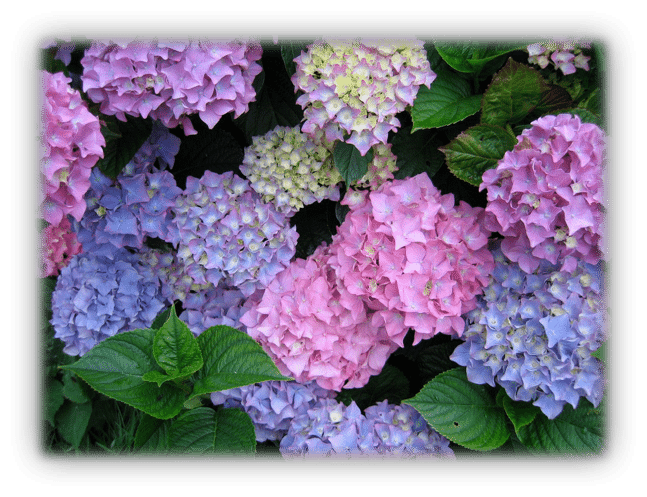 Conditions for Hydrangeas
Before choosing the hydrangea you want, there are some conditions you will need to meet to ensure that your plant will do well in its new home! Most hydrangeas require morning sun and afternoon shade, as a lack of sunlight will reduce flowering, but too much sun can cause the flowers and leaves to dry out and wilt. However, some new cultivars can be planted in full sun, which will certainly add an element of wonder to passerby's who will see the hydrangea flourishing on a bright, sunny day! Also, make sure that they are in an area where they will get plenty of water—if you water your plants by hand, put them somewhere you'll remember; if you have an irrigation system make sure they will not be flooded with water, as the plants requires that the soil drains well. Most hydrangea are frost tolerant, so you should not need to worry about Carolina winters destroying your beautiful plants.
Friends for Hydrangea
If you are looking to fill in an area with hydrangeas and companion plants, there are many options to choose from depending on what type of plant you are looking for. If you need a plant that will offer the shade that hydrangeas need, consider an evergreen! The benefit of evergreens is that they never lose their leaves, offering coverage during the winter months when so many other plants have a barren look. Another option is choosing larger deciduous shrubs, to offer a green backdrop to the beautiful flowers that will bloom on the hydrangeas in your yard.
If you are looking for a plant that will not be as large, try adding helleborus! These, along with ferns and hostas, offer beautiful accents that will add to the appeal of hydrangeas, instead of being distracting like so many brightly colored plants will. Another option is to insert smaller flowering annuals, such as camellias, azaleas, and gardenias, to the area around they hydrangea, to add complementing colors to the view.
If you are looking for a larger hydrangea, take a look at the Hydrangea quercifolia. This popular choice is oftentimes called an Oakleaf Hydrangea due to the shape of the flower clusters. These beautiful flowers develop a pinkish hue as the plant ages, offering a romantic atmosphere when they bloom in the summer and fall. Along with the beautiful flowers, the leaves turn to gorgeous autumn shades as fall moves along, giving another incentive to bring one of these beautiful plants into your yard. One of the great aspects of Oakleaf Hydrangeas is that they typically grow to be between ten and twelve feet tall at maturity, making them perfect if you are looking for a plant to use as a hedge.
There are several options of Oakleaf Hydrangeas to be put into your yard. Snow Queen Hydrangea are a beautiful choice, with clusters of white flowers. If you are a lover of pink flowers, try the Vanilla Strawberry Hydrangea—its flowers will not cease to remind you of strawberry lemonade as the summer goes on!
Another larger Hydrangea is the Hydrangea paniculata, coming in at six to ten feet tall when matured. This hydrangea is named for its panicle-shaped flower clusters, which develop a pink shade, similar to that of the Oakleaf Hydrangea, as they age. Blooming in summer, this beautiful choice is another great option for hedges!
To the left you can see a Limelight Hydrangea, but there are many other choices available! The Quick Fire Hydrangea offers gorgeous red blooms, while the Silver Dollar Hydrangea has beautiful white flowers. The Phantom Hydrangea offers large white flowers—the largest of any in this species!
Hydrangea arborescens
A smaller Hydrangea option is the Hydrangea arborescens, more commonly known as a Smooth or Wild Hydrangea. These hydrangeas have a flattened sphere shape and grow to be three to six feet tall. Due to their size, they are perfect for planting in containers, flower beds, or to use as borders. They also make wonderful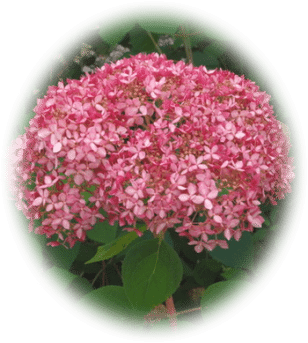 decorations when freshly cut or dried!
A few options for the Hydrangea arborescens include the Annabelle, the Incrediball, and the Invincibelle Spirit (pictured to the right). No matter which Hydrangea arborescens you choose, it is sure to bring smiles to the faces of everyone who sees them!
Last, but certainly not least, is one of the most popular of the Hydrangea—Hydrangea macrophylla, commonly referred to as a "French Hydrangea". These beautiful plants bloom near the Summer Equinox and continue to showcase their blooms into Autumn. Unlike other Hydrangea, these have two distinct flower-cluster appearances: mopheads and lacecaps. Mopheads are recognizable by the sphere-shaped cluster of large flowers, while lacecaps have a cluster of tiny buds surrounded by a ring of large flowers. French Hydrangea typ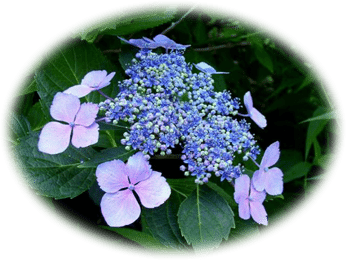 ically grow to be between three and six feet tall, which makes them perfect for planting in many different areas including flower beds, borders, and containers.
No matter where your hydrangea is planted, you can always cut flowers and use them as fresh flowers around the house, or dry them to make wreaths or other decorative items.
A few options for mophead hydrangeas include the Penny Mac (pictured up and to the left), the Endless Summer, the Mini Penny, and the Nikko Blue. If you are more interested in the lacecap hydrangea, try the Lady in Red or the Mariesii Variegata (pictured up and to the right).
Blooming Color
One of the reasons the French Hydrangea is so popular is because of the ability to change the color of the flowers through the soil's pH. Even better, this is something most people will find easy to do at home! If your flowers are pink, that means that the soil is more basic, being at a pH of 6.5 or above. If you have blue blooms the soil is more acidic, being at a pH of 5.5 or below. Purple flowers, or bushes that have a mix of blue and pink flowers, mean that the soil is closer to being neutral—between 5.5 and 6.5. It is fairly easy to test the pH of your soil—you can go to your local garden store and pick up a test kit, or you can try your hand at a DIY hack that you find on the internet!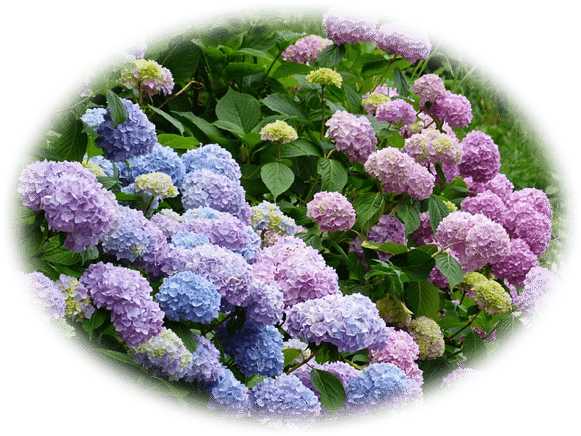 When it comes to actually changing the color of the flowers, there are a few things to keep in mind. Firstly, white hydrangeas cannot be forced to change colors the way blue and pink hydrangea can. Secondly, make sure that the Hydrangea you are trying to change the color of is a Hydrangea macrophylla—otherwise it most likely will not work. Lastly, it is much easier to change pink Hydrangeas to blue, than to do the reverse. This is because it is easier to make soil more acidic than it is to remove acid from the soil.
So, how exactly do you change the color of the flowers? Well, to change the flowers to blue, you can add aluminum sulfate or sulfur to increase the acidity of the soil. To change the flowers to pink, you can add lime or wood ashes to make the soil more basic. Obtaining flowers that are purple or a mix of blue and pink requires a bit more patience and time, as you have to continue making sure that the pH is balanced between 5.5 and 6.5. Keep in mind that it can take several months for the flowers to change colors—it is not an overnight occurrence. But, with enough time and patience, you can have the Hydrangea of your dreams in your own garden!