As we all enjoy the beautiful colors of the spring, let us introduce you to one of the South's most flamboyant summer bloomers. The Crape Myrtle Tree is truly a southern gem in the landscape, as it provides seemingly endless summer color. The flower colors range from white to all shades of pink, lavender, and red during the summer months. While the flowers are beautiful, the foliage is equally alluring, consisting of different shades of green. As summer turns to fall, the Crape Myrtle's foliage continues to feature beautiful colors, including shades of red, orange, and yellow to add to your landscape. The flowers are commonly referred to as "living bouquets" due to their gorgeous hues and the fullness of the blooms. Even on the hottest summer days, Crape Myrtles have a spectacular bloom, and are often noted for being a drought-friendly plant. Interestingly, Crape Myrtles are often incorrectly spelled 'Crepe,' because of the crepe-like texture of the flowers.
In addition to the array of colors, there are a variety of sizes of Crape Myrtles, ranging from Dwarf Crape Myrtles, which are a low shrub, to the Standard large canopy Crape Myrtle tree that you will often find gracing the medians of highways and shading the sidewalks of neighborhoods. There is even a median size Crape Myrtle group called a Semi-Dwarf, that allows you to pick the size that best suites you and your yard. The Standard Crape Myrtle tree can have many shapes, which include weeping, umbrella shaped, round, vase shaped, or upright. There are many types of Crape Myrtles that do well in our region, some of which are included below.
Dwarf Crape Myrtles
As with any plants, Crape Myrtles, even within the same size classification, can range a variety of heights. Dwarf Crape Myrtles can range from one-foot-tall to around six-feet-tall, depending on the species of the plant. If you are looking for a smaller shrub with beautiful, deep purple blooms, the Centennial Dwarf Crape Myrtle (pictured left) might be perfect for you. The color is sure to brighten up any yard! Another Dwarf Crape Myrtle that does well in our region is the Diamond Dazzle Dwarf Crape Myrtle, who's bright white flowers will shine like diamonds in the summer sun. For those who love bright pink flowers, the Pocomoke Dwarf Crape Myrtle is an excellent choice. The pink shade of the blooms is offset by a gorgeous dark green foliage.
Semi-Dwarf Crape Myrtles
A Semi-Dwarf Crape Myrtles at full maturity will typically range between five-feet-tall and twelve-feet tall, making it the perfect size for people who love larger shrubs and smaller trees. The Acoma Semi-Dwarf Crape Myrtle has creamy white flowers surrounded by dark green foliage. The Pink Velour Semi-Dwarf Crape Myrtle (pictured right) has, of course, bright pink flowers. However, what truly sets the Pink Velour apart from other Crape Myrtles is the foliage: from the transition of summer to fall, the dark green leaves change into a beautiful dark orange. For those who are interested in lighter shades, the Sioux Semi-Dwarf Crape Myrtle offers a darker hue of pale pink in its flowers.
Standard Crape Myrtles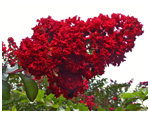 Of course, the Standard-size Crape Myrtle is a beautiful choice as well. Most of the plants in this category end up anywhere from ten-feet-tall, to over twenty-feet tall! The Tuscarora Crape Myrtle offers coral-pink flowers, the perfect balance for individuals who cannot decide between pink and red flowers. The Muskogee Crape Myrtle is one of the larger Crape Myrtles—growing upwards of thirty feet—and offers flowers that are a soft, lavender color. Lastly, the Dynamite Crape Myrtle (pictured left) has vibrant, fire-engine red flowers that are sure to draw the attention of passerby's!
No matter what Crape Myrtle you choose, it will bring amazing color to your landscape all summer long!