If you've been admiring a neighbor's beautiful flowers and are green with envy, let us offer you some tips for achieving that eye-catching color in your garden design.  We have some favorite perennials for the Raleigh area that will bloom all summer long. So, don't think that you have missed out on summer just because the days are getting a little bit shorter, and pretty soon there will be a slight chill in the air. Fall is a great time to plan your summer garden for next year! It's a great time for planting perennials because it IS a little cooler. It's a perfect time of year for your perennials to avoid the mid-summer heat while trying to become established.  You just have to get them in the ground this fall so you will have color all summer long!
The perennials we like for the Raleigh area include:
Garden Phlox: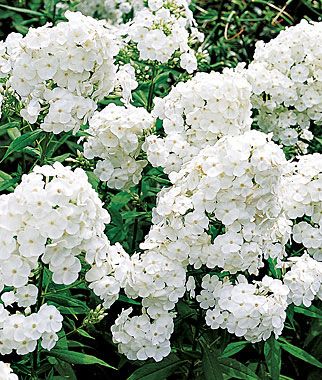 Garden Phlox variety 'David' has pretty fragrant white blooms from mid to late summer and early fall.  'David' prefers full sun to part sun and is a beautiful addition to your garden.  It can grow to 24 – 40 inches in height and can spread to approximately 24 – 30 inches.  The bees and birds find it attractive too so 'David' will work well in a perennial or butterfly garden.  It is best placed behind the lower growing perennials.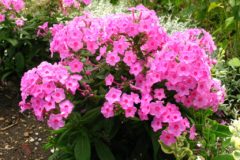 Garden Phlox 'Pink Flame' boasts pretty pink or rose color blooms in a conical shape.  The blooms last from early summer to early fall.  Growth rate is medium and it will grow to about 14 inches tall to roughly 16 inches wide.  'Pink Flame' likes average to moist water but will not tolerate standing water.  Hummingbirds and butterflies are also attracted to these pretty pink blooms!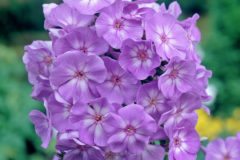 Garden Phlox 'Laura' has fragrant clusters of lavender blooms with white centers.  'Laura' also likes full sun to part shade and typically blooms from July to August.  It can reach a height of around 36 inches and 24 inches wide.  This variety is perfect as a background to lower growing plants in a border and also great for cutting.
Gaillardia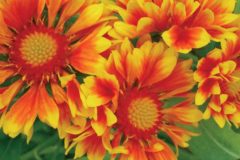 Gaillardia grandiflora 'Oranges & Lemons' produces daisy-like flowers in bright orange with yellow tips and blooms from early summer to mid fall.  When well established, this variety tolerates heat, humidity, and drought, and will grow to around 18 inches tall to 20 inches wide.  It attracts butterflies, birds and bees so it's perfect for a butterfly garden or any sunny spot in your garden!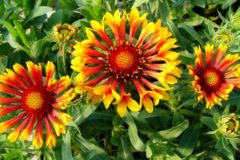 'Fanfare' is another one that we like.  'Fanfare's' claim to fame is its bright orange trumpet shaped flowers that are very attractive to hummingbirds and butterflies.  This variety typically grows to about 16 inches tall to around 18-24 inches wide and also blooms from June to late fall.
Ice Plant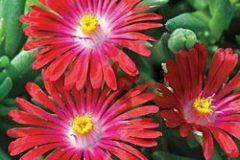 Ice Plant 'Strong Red' is another perennial that blooms mid to late summer/early fall.  It reaches 3-6 inches tall and 1-2 feet wide and tolerates drought.  The red daisy like blooms of this variety are attractive to bees, butterflies and birds.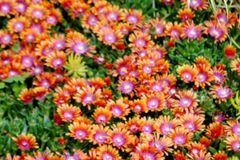 "Fire Wonder' produces bright orange flowers with yellow eyes or centers.  It likes well drained soil and a sunny spot, and can grow up to 6-12 inches in height and 1-2 feet wide.  It's great as a ground cover or in a garden border or even a rock     garden.
Echinacea/Coneflowers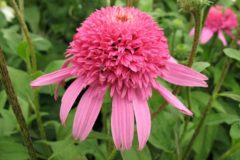 'Pink Double Delight' produces pretty pink double blooms starting in early July and blooming into fall.  This variety likes average to well drained soil with full sun, and can reach 18-24 inches tall.  The butterflies and bees also find this one attractive!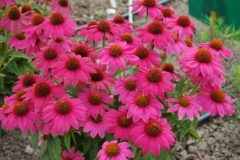 'Pow Wow Wild Berry' grows 16-20 inches tall and 20-22 inches wide. It produces pretty light pink to magenta blooms on a mid-sized mound of foliage from mid June to late September.  The flowers are daisy-like with an orange-brown central cone by mid-summer.  'Pow Wow Wild Berry' prefers moist, well drained soil and part to full sun.  It is also very attractive to butterflies and works great as cut flowers.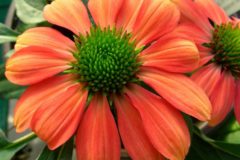 'Hot Coral' reaches 24-26 inches in height and 18-20 inches wide.  This one blooms a brilliant coral all summer long and into fall.  It's another great choice for a butterfly garden or cut flowers.

'Black Eyed Susan' has a golden yellow daisy-like flower with a black center that blooms from summer to frost. This plant has dark green foliage and reaches 30-36″ in height. It is a low maintenance plant that is drought resistant. You may just have to deadhead some of the spent blooms, but deadheading will only encourage more blooms.  Black-Eyed Susan is attractive to the bees and butterflies who visit the flowers for nectar so it's great for a sunny raleigh garden.
Penstemon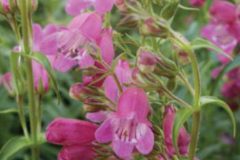 Penstemon x 'Red Rocks is a beneficial plant for pollinators as it attracts hummingbirds and butterflies.  It displays rose-colored trumpet shaped flowers throughout the summer and likes average moisture and well drained soil. It reaches approximately 1 – 1.5 feet in height and works great in a raleigh landscape and perennial border.
Guara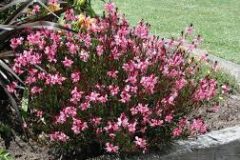 Ballerina Rose has pretty rose pink flowers and has a mounded airy habit.  Blooming time is late spring, summer and autumn.  It likes a sunny spot with full or part sun and light water.  Ballerina Rose will grow to 12-18 inches in height and 12-14 inches in width.  This pretty bloomer is attractive to hummingbirds and butterflies.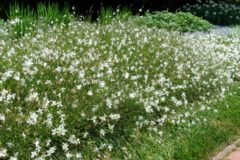 'Whirling Butterflies' is a whispy bloomer that displays pretty white flowers that almost appear to dance in the breeze. This show of flowers lasts from early summer to early fall.  This whimsical bloomer likes full to partial sun and can reach to 20 inches in height.  'Whirling Butterflies'  can thrive in heat and humidity, and the hummingbirds and butterflies also find this bloomer attractive.  It's another great choice for your raleigh garden!
Coreopsis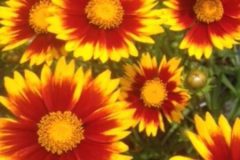 L'il Bang 'Daybreak' Coreopsis has narrow dark green foliage topped with bright red, orange and yellow flowers which bloom from mid-summer to mid-fall.  This variety is easy to grow and is disease resistant.  It requires full sun and will grow to approximately 1 foot tall to 1.5 feet wide.  Great for a bright summer garden!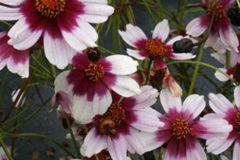 Coreopsis rosea 'Sweet Dreams' blooms from mid-spring to mid-summer in full sun or partial shade. This variety produces pretty blooms that are raspberry in the center with a lighter pink around the outer petals.  It has an airy spreading habit and can grow to 1 foot tall and 3 feet wide.  This one is also attractive to our butterfly and bee friends.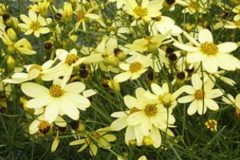 Coreopsis 'Moonbeam' will attract butterflies and birds to your garden. It's blooms are light yellow that top a delicate needle-like foliage and displays them from early summer to late summer.  'Moonbeam' grows to approximately 12 – 18 inches tall and can spread to 12 – 18 inches wide.  This variety also has an airy habit that fits well in the front of a border but also looks great in a rock garden or on a bank or even used as cut flowers.
Lantana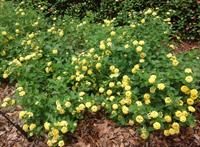 'Chapel Hill Yellow ' Lantana is a low spreading Lantana that displays pretty soft-yellow fragrant flowers above dark green foliage from early summer to fall. It grows to approximately 16 inches tall and can spread to 2-4 feet wide.  'Chapel Hill Yellow' is a low-maintenance, drought tolerant, easy to grow choice for your garden design.   A great fast growing mounding plant for borders, as a ground cover or in a rock garden.  The butterflies, bees and hummingbirds love this one too!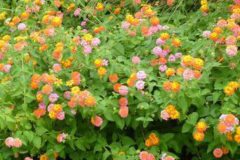 'Miss Huff' Lantana is a hardy Lantana that displays pink, yellow and orange flowers from early spring to late fall and attracts bees, butterflies and hummingbirds.  'Miss Huff' is easy to grow as it likes full sun and is drought and heat tolerant. However, it does require a regular watering schedule in the first growing season.  This colorful bloomer is attractive as a ground cover, in a perennial border, on a sunny bank or trailing in a container.
Bee Balm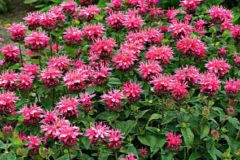 Bee Balm 'Pink Lace' blooms from mid-summer to early fall and produces medium pink flowers. This variety has densely rounded foliage that grows up to 16 inches tall and 18-23 inches wide and likes full to part sun.  'Pink Lace' is very attractive to bees, butterflies and hummingbirds.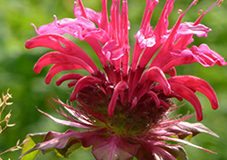 Bee Balm 'Mahogany' produces pink to red flowers and reaches 30-36 inches tall and 18-24 inches wide.  It blooms in mid to late summer in full or part sun, and is very attractive to butterflies, bees and hummingbirds.
If you are ready to start planting your perennial garden for next spring and summer, let us help you.  Give us a call today at 919-844-3441 or fill out the contact form below.