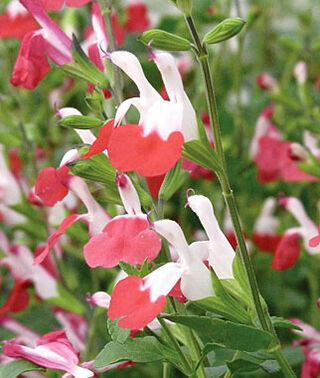 Summer time has definitely arrived in our area…and it is not too late to plant perennials to enhance your landscape .
Salvia 'Hot Lips' (pictured at left) we think are aptly named! These red flowers are sure to attract hummingbirds. Salvia are are beautiful plants and they are tough!
You can also find Salvia 'Black and Blue'. Their blue-purple spikes add pizazz to any garden.
Salvia are are beautiful plants and they are tough!
Achillea
Also known as Yarrow, Achillea are a care free plant that comes in a wide range of bloom colors. These plants are great to plant in mass but can also stand alone or in a pair.
Lavender
This plant not only will fill your garden with beautiful bluish purple flowers, it will also fill it with a wonderful fragrance. The flowers appear above its equally attractive green-grey foliage. Excellent to bring indoors for cut flowers too.
Sedum
Sedum are one of those "plant it and leave it" plants that need little care. Once established, they simply grow. There are a wide variety of shapes and forms to choose from including 'Angelina' which grows flat and can dangle over rocks, and 'Autumn Joy' (pictured above) with its more upright and rounded shape. They are all nearly impervious to heat and have very few disease issues.
Monarda
Commonly known as Bee Balm, these flowers will attract bees, butterflies and hummingbirds. Their blooms run from pink to purple.
They are perfect for your cottage garden, pollinator garden and even meadows.
Ice Plant
If you want carpets of flowers that are drought tolerant, this is the plant for you. Pink and yellow daisy-like flowers sit on top of succulent leaves as the plants spread across the ground. This is a perfect plant for rock gardens and flower pots. Delosperma Cooperi is the most common variety (pictured above).
Phlox
The Queen of the Garden, these garden phlox can grow as tall as 2′-4′ which makes them a great option for the back of your garden area.