If you are looking for a showstopper for your garden, Chinese Snowball Viburnum (Viburnum macrocephalum 'Sterile') is the plant for you.  That is, if you have a sunny area with plenty of space – this beauty can reach up to 15-20 feet tall and 8-12 feet in width.  Snowball Viburnum can serve as a specimen plant, an accent, as a hedge or screening plant.  It can be easily shaped into a tree form specimen plant, espaliered, or grown as a shrub.  Sporting blooms that are similar to hydrangeas, they start their show in April and last through May.  More mature plants may also re-bloom in late summer.  The blooms start as lime green in color and finish as giant white flower clusters making them great for cut flowers as well as a focal point in the garden.

To ensure a brilliant show of springtime snowballs, plant in a spot that receives full sun – six hours is best with afternoon shade.  Moist, well-drained, slightly acidic soil will work best, although it can adapt to most soil types.  This Snowball Bush is heat tolerant, and more established plants are somewhat drought tolerant although watering during extremely dry periods is recommended.  If you need to prune to maintain a certain height, be sure to prune right after blooming is complete.  This will ensure that you don't remove the current season's flower buds as they flower on old wood.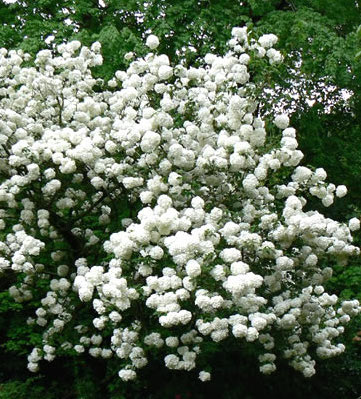 This Southern beauty is a great choice if you have room for it.  Actually, what more can you ask for in one plant?  A fantastic springtime show offering an abundance of flowers for your garden view and cuttings for your indoor flower arrangements.  The possibility of re-blooming flowers allows you do it all over again in late summer!