Spring is Coming to Your Raleigh Landscaping!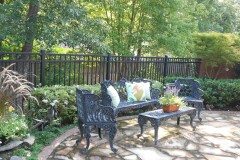 Don't let the cold days get you down! As you sit inside, envision how you would like to see your Raleigh landscaping come Spring. With the Spring season quickly approaching, now is the time to plan and plant!
Let us design an outdoor room for you. A place where you can sit and enjoy the sounds of water, birds, and watch butterflies. You can also enjoy the beauty of trees that flower year-round. How about a beautiful new patio? Are you considering extending you're walkway? These are all possible and now is the perfect time to complete those projects! This Spring you can enjoy and admire your own landscaping.
Our goal is to design and install the landscape of your dreams. Our designer will meet with you to discuss ways to update/enhance your landscape. No matter what your vision for your landscape, our designer will work with you to achieve the perfect look. Our professional installation team will then work hard to ensure that your landscape is installed the way you envisioned.
Not sure what type of landscape you would like? A few options are listed below to help!
Our specialty gardens include:
 Outdoor Rooms
Butterfly gardens and bird gardens
Formal English gardens
Perennial gardens
English cottage gardens
Oriental gardens
Herb gardens
Water gardens
Low maintenance gardens
February is also the perfect time to transplant trees and shrubs. Have a tree you love, yet wish it was in a different location? Let us help you move it!
Also, do not forget to ask about our native plants! DesignScapes can help you create a garden with plants native to North Carolina.
We invite you to contact us for more details and to schedule your appointment today. Call us at 919-844-3441 or visit our contact form here.
ALSO, don't forget we are offering a special for the month of February. Check it out here: February Coupon.