Earth Day has been celebrated in the United States since 1970 which means this Monday is the 49th anniversary! To celebrate we put together a list of ways you can celebrate our big, beautiful blue and green planet.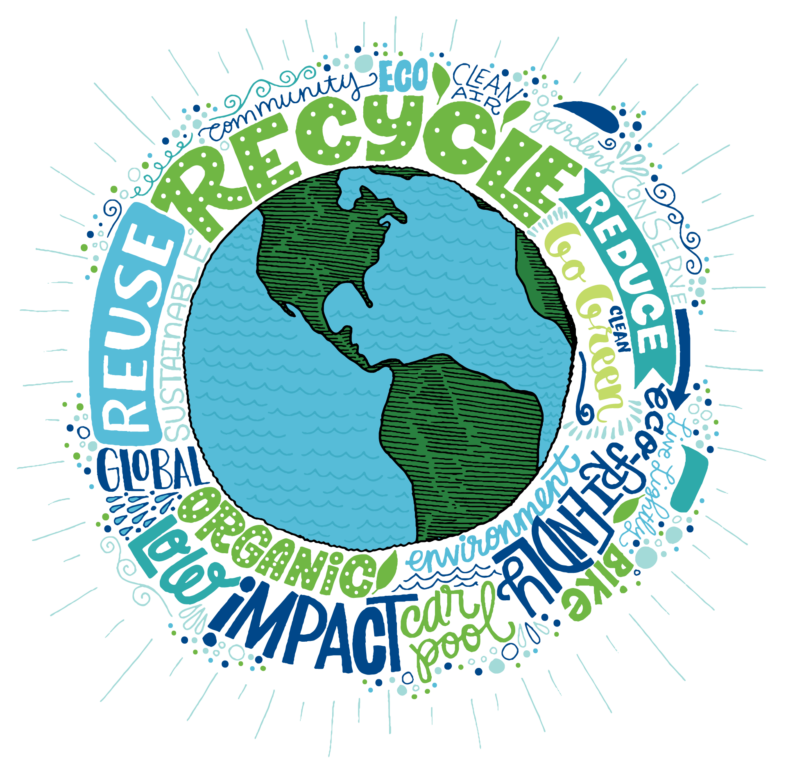 1. Celebrate Locally with Earth Day Events
Check-out what your local community is doing to celebrate Earth Day! Not only will you be supporting your locally own-businesses and organizations (which is eco-friendly) but most Earth Day events deal with helping clean or add to the environment. If you are local to Raleigh there are so many awesome ways to you can celebrate Earth Day with our community. Here are some local event options below:
This Sunday April 21st, North Carolina State's Wellness and Recreations program is celebrating with a 'Cleanup at Lake Raleigh' event. From 1pm-4pm you can join the NC State crew in picking up litter along the trail and doing trail maintenance to help prevent erosion. This is a free event plus water and snacks will be provided!
https://www.get-offline.com/inspiration/earth-day-cleanup-at-lake-raleigh
Durham is having a Earth Day Festival on Sunday, April 28th, 2019 from 12 pm to 5 pm. There will be an Earth Day parade, live music, environmental education, free paper shredding and more. Rain or shine they will be celebrating mother nature and all the ways we can help preserve her!
https://triangleonthecheap.com/earth-day-celebration-durham/
If just getting out in the fresh air is more your style, you can join us the NC Science Festival on Earth Day for an easy-paced nature hike through the forest. Starting at 5:30pm, you'll learn about the origins of Earth Day on a mile-and-a-half hike, discover and discuss ways to help our environment locally and make stops at interesting sites along the trail.
https://www.ncsciencefestival.org/events/earth-day-hike
2. Buy Eco-Friendly Product
Finding where to start when buying eco-friendly products can be difficult! So starting small and working your way up with more complicated eco-friendly products is the way to go. Taking plastic water bottles off your grocery list and buying a reusable water bottle is a great first step to makes a huge difference! The United States consumes around 50 billion disposable water bottles per year and one average Americans only recycle around 23 percent of our plastic waste, meaning around 38 billion water bottles went straight into landfills. Even little steps from one person (like you!) can help change those numbers drastically.
NC State University's Wolfpack will be celebrating Earth Day on the campus Brickyard with 75+ organizations and businesses. Their Earth Fair is this Monday, April 22nd from 10am to 2pm and would be a great place to start buying all your eco-friendly replacement products!
https://sustainability.ncsu.edu/get-involved/events/nc-state-earth-fair/
3. Plant a Tree
Planting a tree is a great way to celebrate Earth Day and add to the enviroment. Not only do trees produces oxygen, they also clean the air by trapping pollen, dust and other polluters. Trees are truly our lifeline to a healthier environment and cleaner air. Doing your research and planting the right type of tree for your area is important! If you are in Hawaii a Eucalyptus would be a great addition to your yard, Poplars (aspens) are great if you are in the Great Lakes region, if you are local to Raleigh we would recommend a White Oak tree or a Sourwood for your Earth Day celebration. So whether you head to the store, grab some friends, and get digging yourself or pick up the phone and call us to do the hard work—you'll be a part of a happier, healthier future for the planet we call home.
Happy Earth Day!