Create Your Outdoor Living Space – Landscaping in Raleigh
Over the past several years, people have been taking their yard and transforming it into valuable living space. Creating large patios with
many of the same amenities as indoors has many people spending more time outside. Sitting on your patio is now as comfortable as lounging in a living room. With many options such as brick, pavers, stone, etc. there are plenty of ways to design and create your beautiful outdoor living space. By using your yard's valuable resource you can enlarge your home's living space, enhance your quality of life and increase the value of your property.
In order to make the most of your outdoor space, reframe the way you think about the outdoors and your landscaping in Raleigh. Your house does not have to be an "island" surrounded by a sea of grass. Instead of "yard", think "landscape," where your home expands and blends into its surroundings. You can use your patio to create an outdoor room or a private space to put your feet up and relax.
Walkways and walls connect your home to the outdoors and link together the different parts of your landscaping in Raleigh. They also help direct traffic and make it easier to get around. Sometimes stairs and walls are needed to deal with challenges like slopes and level changes, other times they are used to define and separate one space from another.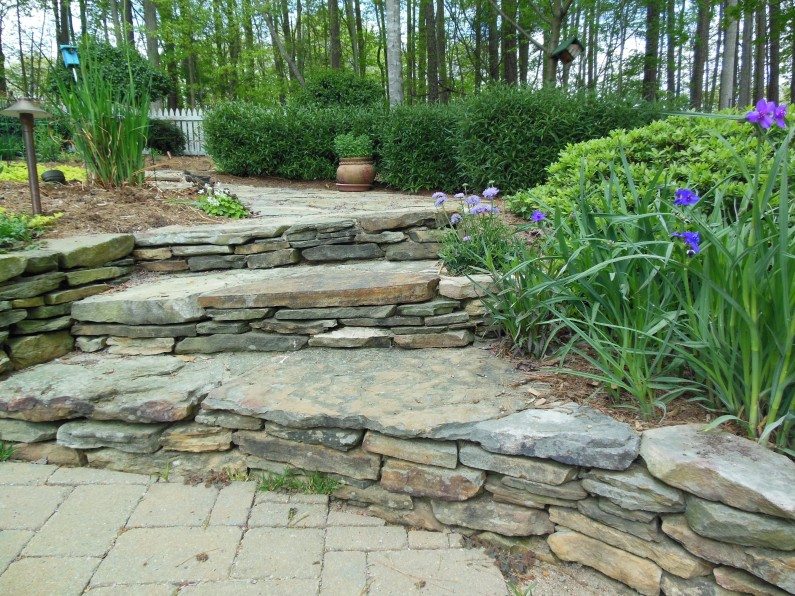 Now is a great time to add walls, patios, walkways or stairs to your outdoor living space. Our talented design team can help you create a more comfortable outdoor living space while making the most of the space you have. Our custom installation team works with our design team to make your dream outdoor living space become a reality.
Call us today at 919-844-3441, email us at designscapes1@nc.rr.com, or use our contact form and take the first step to creating your dream outdoor living space!