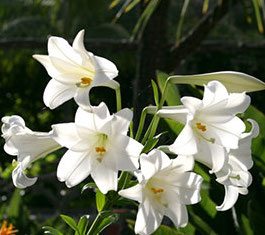 This time of year brings beautiful spring blooms, fragrant flowers, Peter Cottontail and Easter Lilies!  The most popular Easter Lily that graces homes, luncheons and Spring parties this time of year is the cultivar 'Nellie White'.  This beautiful plant has large, white, fragrant trumpet shaped flowers.
The Easter Lily is considered a symbol of beauty, hope and life and is often given as a gift or used to decorate for the Easter holiday, or simply just to bring a bit of Springtime into your home.  To extend the life of your lily, it is important not to over-water as they prefer moderately moist, well-drained soil.  So, it is best to only water when the plant soil feels dry.  This will help prevent over-watering and keep the plant from sitting in standing water.
In the Raleigh landscaping area,  you can transplant them to your garden after the last threat of frost has passed.  Once your lilies have finished blooming, it is best to find a sunny spot in your garden prepared with a well-drained, organic matter. Using a well drained planting mix is best as good drainage is a necessity for growing Easter Lilies.  You want to plant them 3-6 inches below the soil and space them approximately 12-18 inches apart.  Providing mulch will help keep the weeds at bay and also keep the bulbs cool in the summer and protect them during a harsh winter.   If you take good care to protect them and keep them watered but well-drained, the bulbs will typically produce multiple blooms in July.  Happy Easter and Happy Planting!