If you are new to the Raleigh area and are into gardening, fall is a great time to get your plants in the ground. Our planting season actually extends into winter here. The cooler temperatures allow for the plants to become established without the suffocating heat of summer that can stress plants, especially new ones.
It is important to choose plants that will thrive in the plant hardiness zone of the particular site. Raleigh sits in the USDA Plant Hardiness Map Zone 7. The map is based on the average annual minimum temperature, and divided into 10 – degree Fahrenheit zones.
There is a great selection of colorful fall plants that do well in the Raleigh landscaping area.  These are just a few of our favorites that are showy in early fall: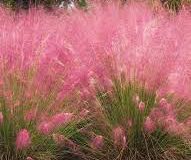 Ornamental grasses are great in an early fall garden.  Pink Muhlygrass is one that puts on a beautiful display of  wispy, pink and light purple color.  It can reach to approximately 3 feet tall and up to 3 feet wide.  This colorful show typically lasts for 6 – 8 weeks or until the first frost.  It looks great planted in clumps in a border or as an accent, and also works well as a ground cover in poorer soils.  This grass is native to  North America and does well in the Raleigh landscape.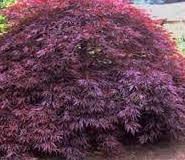 Japanese Maple is another showy plant that offers great leaf color, and fall is the best time to plant.  You just need to make sure it is well watered until winter and supply it with a good coverage of mulch.  Japanese Maples typically need well drained but consistently moist soil, some shade, and protection from wind and late spring frosts.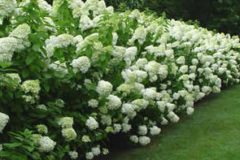 Limelight Hydrangea offers nice flowers this time of year with lime green blooms that turn pink in fall.  We like this one for Raleigh gardens because it blooms in mid-summer, later than most hydrangeas, and lasts until fall.  Limelight is a deciduous shrub that can grow up to 8 feet tall and 8 feet wide.  The flower heads on this variety can grow up to 6 – 12 inches in length and remain upright, unlike the mopheads.

Beautyberry  is a native perennial shrub.  It is a fast grower that can grow up to 5 – 8 feet tall and wide with drooping branches.  We like this one for the clusters of purple or white berries it produces in the fall.  This shrub also provides color in late spring and early summer with flowers that are either blue, violet, white or pink.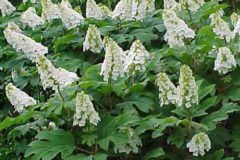 Oakleaf Hydrangea is another one of our choices because of the brilliant red and orange foliage it produces starting in early fall.  The peeling bark of the Oakleaf also offers interest to the garden in the winter.  It is native to the southeastern United States and provides color beyond its blooming season which is late spring to early summer.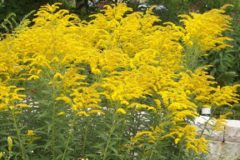 Goldenrod blooms in late summer and early fall providing bright yellow flowers. Some can reach up to 6 feet tall and are attractive to wildlife. That's right the bees and butterflies like this one too.  Goldenrod does prefer full sun but is fairly easy to grow.  This is a low maintenance plant that will grow in different soil types.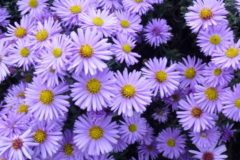 Asters are another great way to add color to your fall garden as they produce an abundance of daisy-like flowers in summer and fall.  They come in a variety of color choices and growth habits.  Lavender, white and pink are just some of the choices and growth habitats range from mounding to taller varieties.
We will be glad to assist you with selecting some great plant choices for your fall garden.   Just give us a call at 919-844-3441.