With the warm temperatures that we are experiencing here in Raleigh, we are seeing a lot of Spring bloomers blooming early.  Some of these early bloomers that we especially like include the improved cultivars of the tulip magnolia family.  Although there are numerous magnolia varieties to choose from, these seasonal specimen trees can provide a great focal point in your garden.
We like these improved cultivars because they will stop the blooming process if the temperature turns cold.  So, if old man winter decides to make another appearance after unseasonably warm temperatures, these tulip cultivars will prevent the unopened buds from blooming.  This prevents them from freezing and ensures beautiful seasonal color in your garden.  That's why we consider them true "Steel Magnolias"!  We have shared some of our favorites below.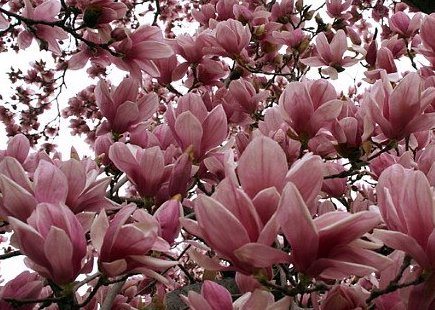 Magnolia x 'Jane' reaches to a height of 15-20 feet  and a width of approximately 20 feet.  This beauty likes sun to part shade and has a moderate growth rate.  It is deciduous and blooms in early Spring producing tulip-like, dark pink to lavender flowers.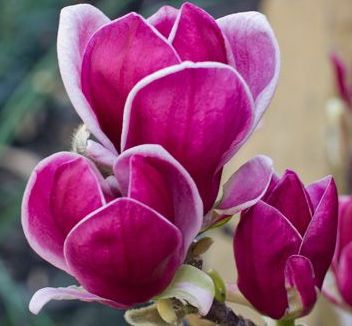 Genie Magnolia is great for smaller gardens or containers as it is has a compact growth habit.  'Genie' blooms from early Spring into Summer producing beautiful, fragrant tulip shaped purplish flowers that start as stunning black red buds.   It grows to approximately 10-13 feet in height and to about 5 feet wide. This beauty does best in full sun and rich, well-drained soils.  Great as a specimen plant out in the yard or in a border.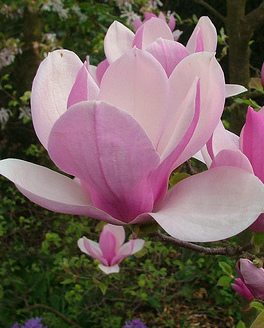 Another great specimen tree, 'Daybreak' has a columnar growth habit and produces magnificent large fragrant pastel pink flowers that have an upright growth habit when they first appear.  The blooms are actually a bright pink with a lighter pink to white color on the inside.  This is a deciduous tree that can grow to 25 feet tall and 6-12 feet wide. Daybreak prefers full to part sun and organically rich, well-drained soil.
We can design a garden plan for you that incorporates these dainty beauties!  Just fill out the contact form below or give us a call at 919-844-3441.