You know the saying "April showers bring May flowers"? The saying has become a reality for us this week here in the Raleigh area. While we love the rain, as water is a dire necessity for landscaping, it can be a real nuisance when you have swampy, wet, and erosion prone areas in your yard!
Step number 1: Admitting you have a problem.
Are you losing mulch every time it rains? Do you have water in your yard for days after a shower? Are there spots in your yard that make you feel like you're sinking down when you step in them?
If you answered yes to at least one of these questions, continue to the next steps.
Step number 2: Consider adding a dry creek bed to your landscape.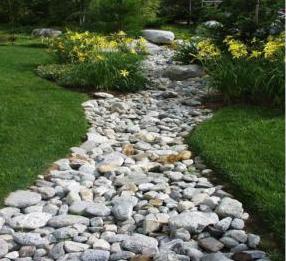 But why should I add one of those? What will that do?
Dry creek beds have many purposes and advantages.
Dry creek beds can redirect water run off to prevent erosion or damaging your existing landscape.
They help with drainage problems.
Make great divisions between features in your landscape.
They are aesthetically pleasing.
Something that looks great and solves your drainage problems? How do I get one?!
Step number 3: Get DesignScapes to build one for you!
This is the easiest step. Let us help you start enjoying these April showers!
Give us a call today 919-844-3441 or fill out the contact form below. We look forward to hearing from you!
Don't forget to subscribe to our blog!