Why do we think Japanese Maples are Marvelous? There are so many varieties that the options are endless!  This ornamental beauty offers an array of vibrant colors and sizes for every garden enthusiast.  There are so many choices for large and small gardens that no one has to be left out of the Japanese Maple experience. Japanese Maples come in dwarf, midsize, and large and also different shapes that range from vase shaped, to columnar, to cascading.  They also provide brilliant color and texture while acting either as a focal point in your garden, as an accent or backdrop, or as a container planting. Even the leaves offer a variety ranging from star shaped or round, to delicate and lacy.  Truly an amazing addition to any garden or landscape!
The show stopping colors can offer year round color to your garden and include brilliant reds, oranges, yellows and purples.  Some varieties begin as a red color in the spring and change to green in the summer and then provide the gorgeous fall foliage of orange, yellow, and crimson that we all long for.  They also pair well with other plants like azaleas, camellias, and rhododendrons and provide dappled shade to other low growing perennials.  Japanese Maples like well-drained neutral, acidic or mildly alkaline soils.  They need protection from strong winds and regular watering when they are young but will tolerate heavy clay and sandy soils.  A great choice for the Raleigh area!
A sampling of the some of the varieties we like for Raleigh Landscapes and Gardens include: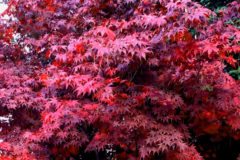 Fireglow Japanese Maple (Acer palmatum 'Fireglow')
This is an upright cultivar that displays bright red leaves especially when planted where the sun can shine behind it.  It is less compact and the leaves are thinner than most cultivars so the sun is able to light up the leaves to a brilliant blazing red.  It is great for containers as well as in the garden landscape and tolerates hot sunny conditions.   Fireglow can reach between 8-10 feet in height and does well in partial to full sun.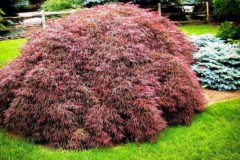 Tamukeyama Japanese Maple (Acer palmatum 'Takukeyama')
Tamukeyama is a deciduous dwarf tree with a rounded shape and reaches approximately 5-7 feet in height with colorful foliage throughout the growing seasons.  Newer foliage is a crimson-red which turns to a reddish-purple and lasts throughout the summer.  As the season turns to fall it displays a eye-catching scarlet red.  It is a graceful garden accent or focal point with delicate fern-like leaves.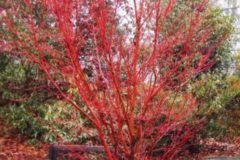 Coral Bark Japanese Maple (Acer palmatum 'Sango Kaku')
This particular Japanese Maple provides spectacular year round interest with its colorful red-coral bark that stands out in winter. In spring it produces pink tipped yellow-green leaves that turn to a green color in summer and then change to a yellow-gold in fall.   Coral Bark Japanese Maple is vase shaped and adds colorful interest to your landscape.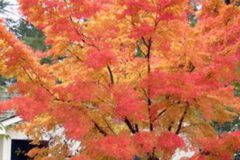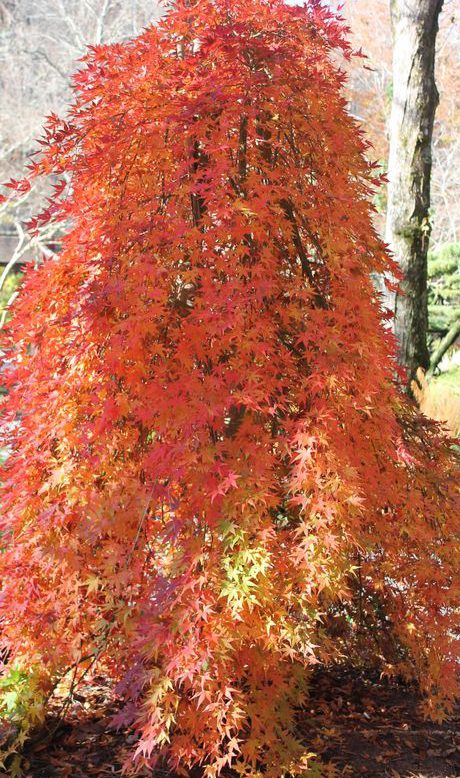 Weeping Japanese Maple (Acer palmatum 'Ryusen')
Ryusen is an extreme weeper and a vigorous grower.  It's great to use as a focal point in your garden or to grow on an arbor or trellis.  Allowing it to cascade down a wall or bank is another great option as it can become a groundcover  if it is in not staked.  This Japanese Maple also works well for smaller spaces as it reaches approximately 5-6 feet in height. It tolerates extreme heat and displays beautiful color.  The color starts as a lighter green in spring then settles to a darker green in summer.  As summer turns to fall, Ryusen displays brilliant shades of oranges, yellows and reds.  We love this unique tree for Raleigh gardens!
Fortunately, fall and winter are a great time to plant Japanese Maples in the Raleigh area.  We would love to assist you with your garden and landscaping design and plantings.  Call us at 919-844-3441.