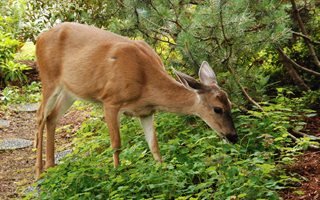 Spring is here…and so are the deer! Sweet little Bambis can be found at dusk or dawn munching on the new tender growth of plants in our emerging yards ~ do you have your landscape prepared?
What to do?
First and most importantly, if you live in an area where deer are prevalent make sure that you are careful with what you plant in your yard. There are many deer resistant perennial and shrub options that you can use in your landscape! Let's explore a few!
SPIRAEA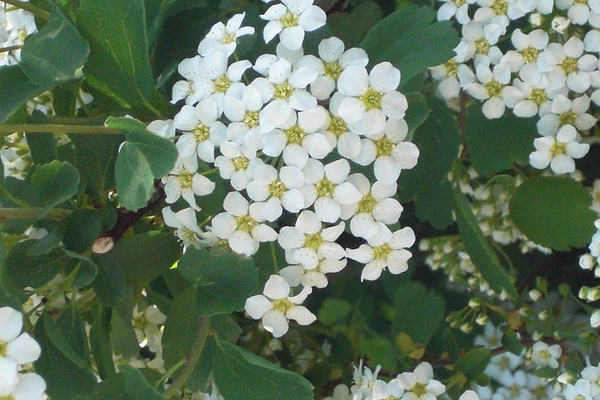 There are many varieties of spiraea, this particular variety is the Spiraea trilobata or Threelobe Spiraea. It is a dense, upright, compact deciduous shrub that typically grows to 3-4′ tall with a slightly larger width. This cultivar is noted for its numerous white flowers displayed in crowded clusters in the spring. The flowers, which are attractive to butterflies, are offset by three-lobed, coarsely-toothed, blue-green foliage. Not all varieties of spiraea are deer resistant, so be sure to ask before you buy.
BUTTERFLY BUSH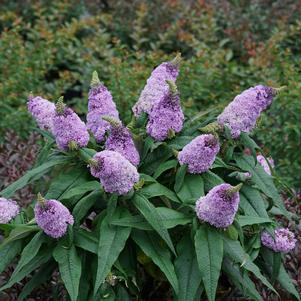 The butterfly bush is an excellent choice to grow if hungry deer are an issue for you! This Pugster Amethyst Butterfly Bush from Proven Winners has full sized blooms on a compact bush. It blooms non-stop from early summer through frost with amethyst-toned flowers, each with a tiny yellow-orange eye in the center. Thanks to thick, sturdy stems, the Pugster series offers vastly improved hardiness and winter survival over other types of dwarf butterfly bush. It is fragrant, drought tolerant, attracts pollinators, and resists deer AND rabbits.
BOXWOOD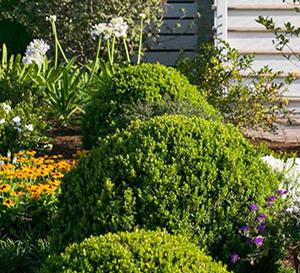 Boxwoods are a tried and true deer resistant shrub for the Raleigh area. There are many different varieties of the boxwood. In the landscape, it works well as a low hedge, foundation plant, edging, or shrub border. It is very tolerant of pruning and sheering but do not prune before the last spring frost date or new growth will be damaged. Not only do the deer not like it, but rabbits and nematode as well.
SWEETBOX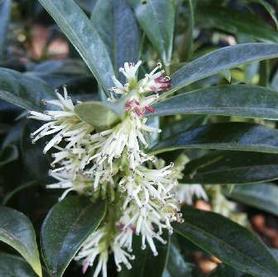 Useful in groups as filler or background, sweetbox is a beautiful shrub for shady areas! White spring flowers are small, but very fragrant. Blooms are followed by bright red ornamental fruit. Sweetbox can also be trained to grow flat on a wall on supports such as a trellis or lattice and it is an outstanding choice for dry shade gardens where other plants won't grow! It is an evergreen and of course deer resistant.
DAPHNE
This particular daphne pictured is the Carole Mackie Daphne. It is a variegated variety that grows 3-4 feet tall and wide with variegated leaves that grow in a whorled pattern. The very fragrant showy flowers appear mid-spring in clusters and may bloom lightly again in the fall. The foliage stays attractive through early winter and is semi to evergreen in its warmer growing zones.
GARDENIA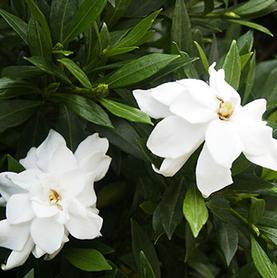 Gardenias are shrubs or small trees which generally have large, white flowers. Blooms May, June and July. Pungently fragrant, should be placed where fragrance can reach largest area. Beautiful foliage, holds color well into winter. The bees love the gardenia flowers so they attract pollinators…but not deer!
Some shrubs to avoid if you have deer in your area: American Arborvitae, Evergreen Azaleas and Rhododendron, Hybrid Tea Rose and Yew.
There are many different varieties of each of the shrubs listed above. To make sure you get the right variety for your landscape let us help you make a plan for your yard based on your soil conditions, sun/shade issues and growth space available!
For more information on deer resistant perennials and shrubs, read our previous blog :
https://www.designscapesofnc.com/wp-admin/post.php?post=1896&action=edit