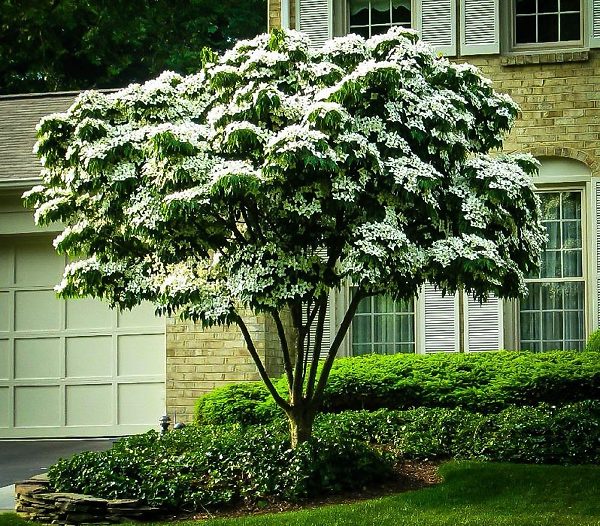 Few plants scream SPRING like the dogwood, but the dogwood tree that extends the beautiful season is the White Kousa Dogwood. The Kousa Dogwood blooms 2-3 weeks after the common dogwood. The creamy white blooms stand out beautifully against the dark green foliage. (Notice that unlike the common dogwood, the flowers of the Kousa come out after the leaves.) The pointed or tapered white petals are actually modified leaves called bracts. They surround clusters of tiny yellow flowers and cover the tree for a striking spring display.
Not only are its flowers a dream, it has colorful red berries loved by birds and the leaves turn a beautiful rich red in fall. The bark is initially smooth and light brown, later exfoliating into small patches forming a tan and brown camouflage or mottled pattern. This mottled, exfoliating bark creates interest in wintertime.
Things to know about the Kousa Dogwood:
Small native tree for environmental planting
Spectacular spring flowering
Perfect small tree for smaller gardens
Deer resistant
This is the perfect choice for a wooded garden, since it will thrive in the partial-shade of larger trees and will not be eaten by deer. The ideal tree for gardeners who want to grow native species. Small enough to fit into small gardens, as well as into limited spaces in big ones. Truly a tree for all seasons – you will never regret choosing this beauty.
Give us a call if you need help getting a White Kousa Dogwood in to your landscape to enjoy this spring ~ and beyond!